About Us


The Orion Performing Arts Center (OPAC), a 900- seat venue situated in Mt. Ararat Middle School in Topsham, Maine, serves the general population of Topsham, Bowdoinham, Bowdoin, Harpswell, and the entire midcoast area. It is the largest performance space in the region and was designed with exceptional acoustics.
OPAC's mission is to cultivate in our schools and communities an appreciation and understanding of how the performing arts—music, drama, and dance—deepen and illuminate what it means to be human. The MSAD#75 School Board encourages the community to use the facility when it is not needed for school-related events.

For people of all ages, OPAC provides a diverse, meaningful opportunity for student training, growth and success and promotes a community of fluent learners, critical thinkers, and creative contributors to our society. The Orion Performing Arts Center is a cultural beacon in the region, allowing the community at large to experience first-rate live performances, by students, amateurs, and professionals.

OPAC is a venue open to artists outside of the community. From ballet to ballroom, rap to rhapsody, improvisational comedy to full-fledged theater productions, the Orion Performing Arts Center offers a warm, vibrant and inviting space for artists to share their craft.

---

Contact Us
Judy Lloyd
Orion Performing Arts Center Coordinator
lloydj@link75.org
207-729-2950 ex. 7


OPAC
Mt. Ararat Middle School
66 Republic Ave.
Topsham, ME 04086

Orion Performing Arts Center Advisory Committee:

Mark Conrad
Holly Kopp
Josh Ottow
Kristen Thomas
Kim Totten


The mission of the Orion Performing Arts Center is to cultivate an appreciation and understanding of the performing arts through dance, music, and drama. It serves as a cultural beacon in the midcoast Maine region and enables community members to experience first-rate live performances both amateur and professional. It provides a 900 seat venue that encourages individuals to appreciate the arts and to become fluent learners and critical thinkers.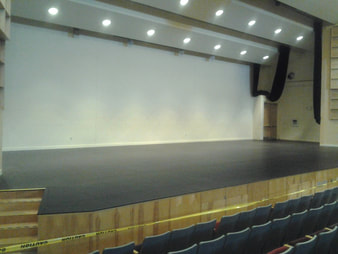 Our New Stage!
The Orion now has a new stage surface, finished in summer, 2014. Smooth and sleek! Thanks to all who participated in this process, and to Dan Oram and his crew for completing the work so well and quickly.
THANK YOU to the Alfred M. Senter Fund for the generous $8,000 grant, received in December, 2013 for the stage floor replacement. Thanks also to the Wing-Benjamin Trust, for a $500 grant received in summer, 2014. We appreciate that Fairfield Inn & Suites/Marriott of Brunswick sponsored our "Beatles For Sale" show in November, 2014--a benefit for the stage. Further thanks to Brooks Family Foundation for a $2,500 grant for stage improvements, used partly for the stage surface and also forming the beginning of our next priority--black curtains for the back of the stage.
We conducted a number of fundraisers--a dinner, and concession sales-- and the seat plaque campaign added to the income. Further seat plaques sold will help fund the improved upstage curtains. See seat plaque information on this page-- income will go to the Capital Fund.
Student Visual Artists bring Joy to the Orion!